SUCCESSFUL CARGO LOADING OF THE FIRST PHYSICAL DELIVERY FOR APEX'S FIRST CONTRACT, RBD PALM OLEIN FUTURES CONTRACT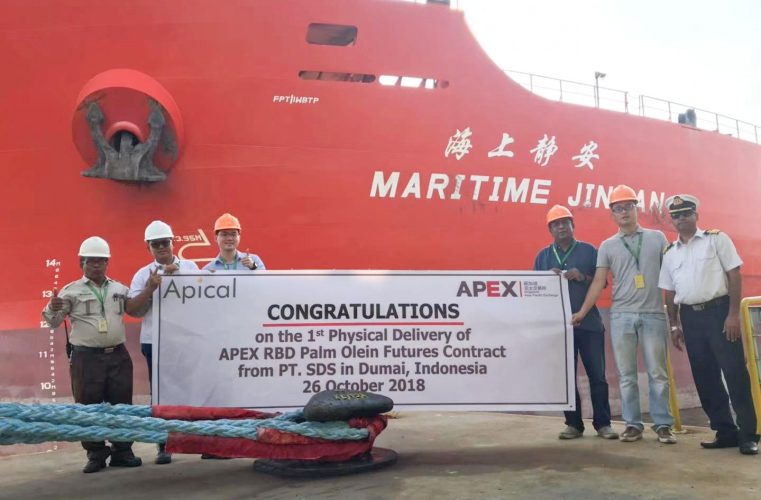 On 28th October 2018, Asia Pacific Exchange (APEX) completed the cargo loading of the first physical delivery under its first contract, APEX RBD Palm Olein Futures Contract PF1809, through the free on board (FOB) method. This inaugural delivery of 4000 MT of product took place in Dumai Port, Indonesia, where the product will be shipped to Pakistan subsequently. The successful delivery was attributed to the close cooperation between the buyer and seller and APEX's Clearing Members, KGI Securities (Singapore) Pte. Ltd. and UOB Kay Hian Private Limited.
Both buyer and seller were pleased with APEX's physical delivery process. The statement from the seller, AAA Oils & Fats Pte Ltd can be found below.
"We have started to trade APEX RBD Palm Olein futures since the launch of the contract. This contract fills the need in the market for a USD-denominated palm olein futures that covers the Indonesian FOB market, and we observed that it has attracted more participation as can be seen in the increasing open interest.
We are delighted to participate in the first delivery of the APEX Palm Olein contract. APEX's FOB settlement and delivery mechanism is comprehensive yet simple, which is similar to international trade standards. Through this participation, we are now more confident with trading and delivery of APEX Palm Olein futures contract."
–Mr Alex Tan, Deputy Commercial Director, AAA Oils & Fats Pte Ltd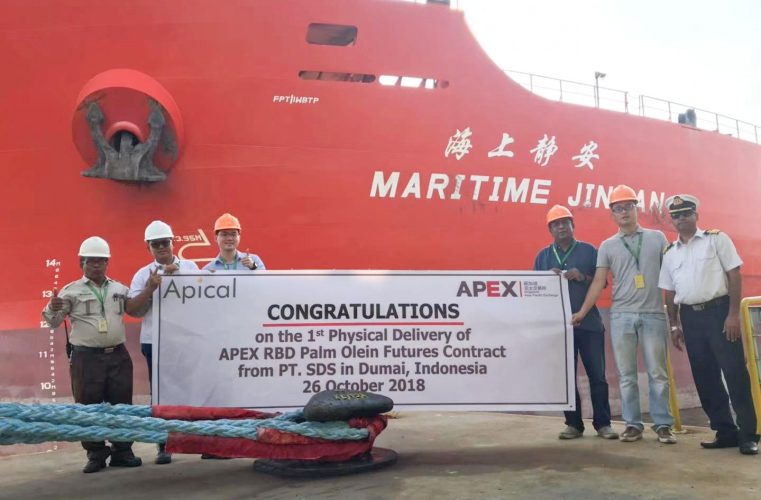 The RBD Palm Olein Futures Contract is the first derivative product launched by APEX and has attracted strong interests from the market since it was listed on 25th May 2018. As of 26th October 2018, the average daily trade volume was 51,000 lots and average daily trade value was USD$ 601 million. The overall open interest has been increasing steadily, and there will be more physical deliveries expected in the upcoming contract months.
About APEX
APEX is the third exchange with the "Approved Exchange" and "Approved Clearing House" licenses in Singapore. APEX's business scope covers futures and options contracts covering both commodity and financial derivatives products, including derivative products in the asset classes of agriculture, energy, petrochemical, metal, foreign exchange, interest rates, bonds and stock indices.
After the successful launch of APEX RBD Palm Olein Futures Contract, which has seen a steady increase in market interest and open positions, APEX launched its second product, the USD/CNH Futures Contract on 19th October 2018. As the world's first weekly UC contract, the USD/CNH Futures Contract covers three cycles, weekly, monthly and quarterly tenors. The contract is priced at US$ 10,000 per lot and utilizes the cash settlement method, meeting the needs of a wide spectrum of clients. In less than two weeks of the contract launch, the average daily trade volume has reached 21,850 lots.
Going forward, APEX will continue to enhance its product line to provide better services for global investors and improve market interconnectivity across different markets. APEX also aims to improve enhance the efficiency of price discovery, so as to develop a bridge to link trade and economic development within the Asia-Pacific region.