Singapore Asia Pacific Exchange (Apex) Launches Its Palm Olein Futures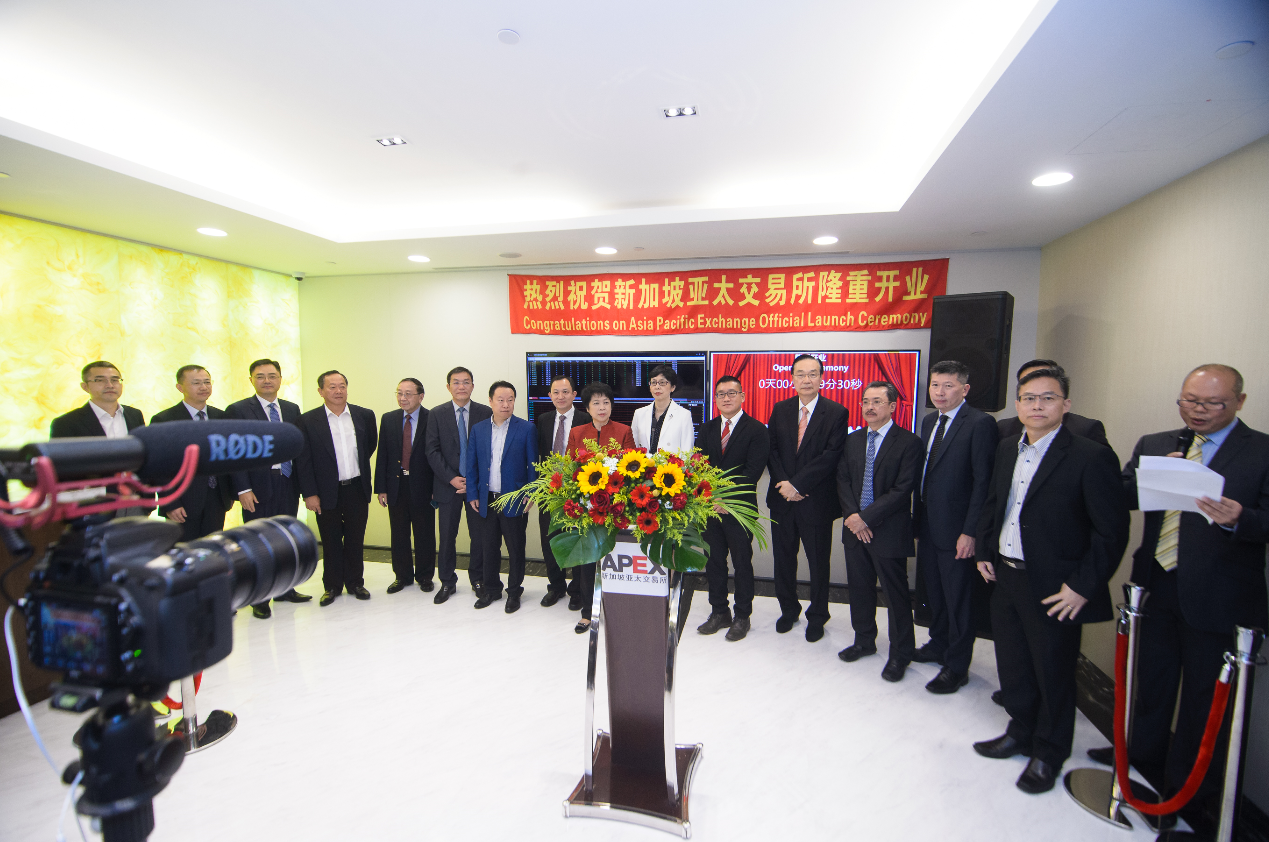 At 9am this morning, APEX, the third exchange in Singapore and the first overseas exchange backed by Chinese investors, officially opened for trading. Distinguished guest from the Monetary Authority of Singapore, IE Singapore, the Chinese Embassy in Singapore and other industry players were present to witness the opening ceremony.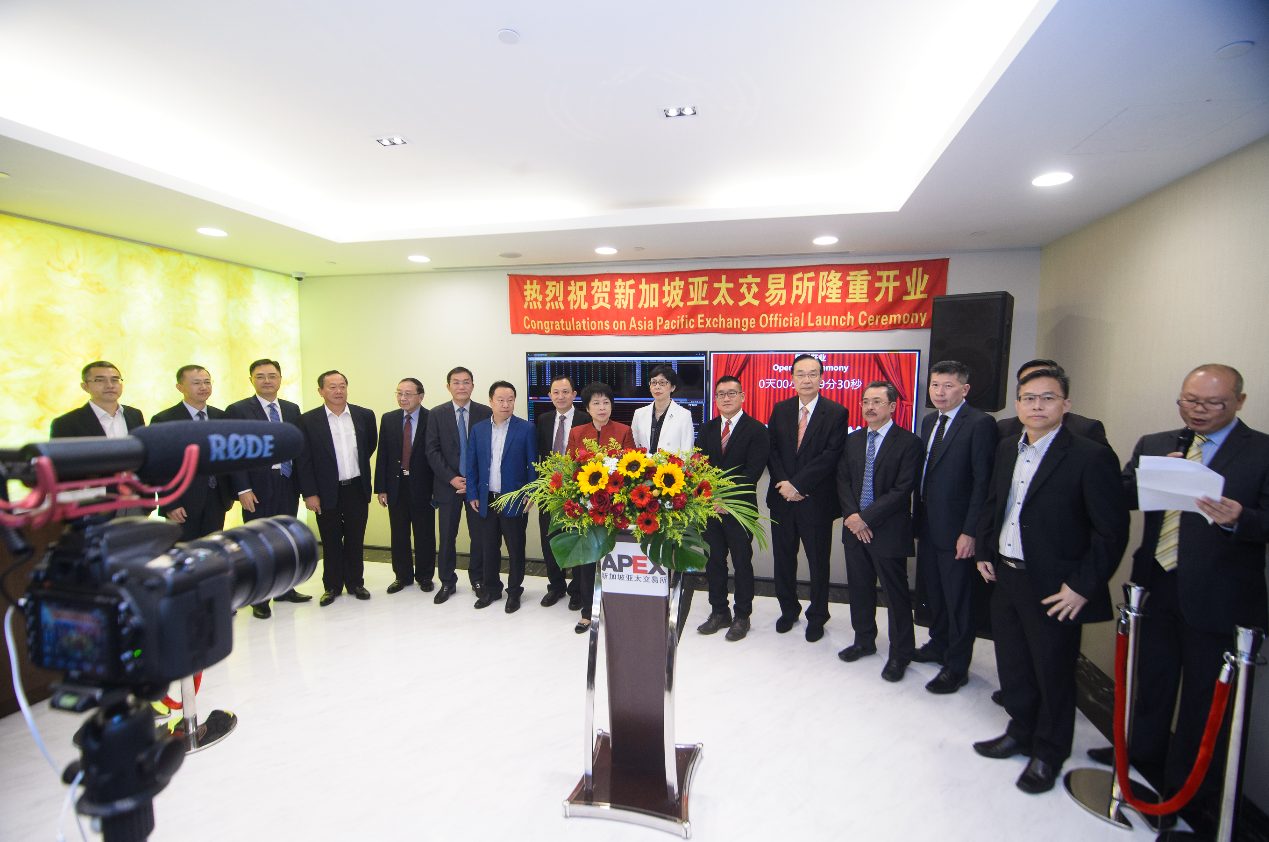 Stellar Performance on Launch Day
APEX has attracted many investors since the approval of its exchange license in February this year. The customer structure presents a broadly diversified portfolio, including palm oil traders, financial institutions, fund managers, and individual investors, forming a rich market ecosystem.
On its first trading day, APEX delivered and impressed the market with its stunning performance. The initial reference price for the first day of trade is US$638/MT for the first 6 contract months, and US$648/MT for the subsequent 6 monthly serial contract. As of 10am, the total volume traded was 3589 lots, with 1580 lots from PF1809 and 2009 lots from PF1811, and total open Interest was 258 lots. The opening price of the most active contract, PF1811, was 650 USD. The contract traded at a high of 665 USD, and a low of 640 USD.
APEX market data can be retrieved in real time through data terminals such as Bloomberg, Wind, WeHua, DZH and POBO, and can be viewed on APEX official website, www.asiapacificex.com.
Inaugural Contract Fills a Gap in the Palm Olein Market
For many years, the palm oil international trade has lacked an actively traded dollar-denominated palm oil futures product. Since international trade is mainly denominated in U.S. dollars, such a product will benefit palm oil producers and traders who would like to reduce exchange rate risks and currency conversion costs. At the same time, because palm oil is produced mainly in Malaysia and Indonesia, investors also expect that the physical delivery sites cover these two major producing countries.
The introduction of APEX palm olein contract solved many problems faced by current market players in terms of currency risk and the settlement process. APEX's palm olein futures contract is denominated in US dollars, putting it in line with the international trade settlement currency for spot palm olein. This avoids exchange rate risks from currency conversion, thus providing a more direct and effective price discovery mechanism. The product that will go for delivery is RBD palm olein, the most common variety used in international trade. The designated port of delivery is located in the main production areas of Indonesia and Malay on both sides of the Malacca Strait, two countries with abundant palm oil resources and comprehensive port and refining facilities. The contract also adopts FOB delivery for physical settlement, which reduces storage costs and saves on delivery costs, thus making the delivery process more convenient for buyers and sellers alike.
CEO of Philips Futures Mr Teyu Che Chern said that APEX's refined palm olein futures contract has garnered a lot of attention from participants in the palm industry and among trading firms. He believes that APEX will attract a more diverse range of participants in the future, further promoting liquidity and improving the price discovery function of the futures market, and eventually building a commodity price benchmarks in Asia.
Mr Alex Tan from AAA Oils & Fats Pte Ltd expressed his full recognition of the innovative nature of APEX palm olein futures contract. He said "APEX has provided an all-inclusive solution for physical delivery to meet the complex needs of industrial customers. Both upstream and downstream businesses in the supply chain can use APEX palm olein futures contracts as an effective pricing benchmark to achieve better operational management. The international palm oil commodity market will also have a new risk management tool to manage business risk."
Improved arbitrage opportunities
Through APEX, market participants are provided with greater cross-market and cross-variety arbitrage opportunities. Since APEX's trading hours cover both the Dalian Stock Exchange and Bursa Malaysia, investors will find more investment arbitrage opportunities across the different markets. Given the strong price correlation between palm oil, soybeans, and crude oil prices, there are also many opportunities for arbitrage between the different edible oils.
With the current Sino-U.S. trade tension, APEX dollar-denominated palm olein contract, whose underlying is a highly substitutable product to soybean oil, also provides hedge funds a good hedging tool to manage risk in their soybean trades.
Build an Asian price benchmark
Year 2018 marks the 40th anniversary of China's reform and its opening to the global economy, and China-Singapore relations have advanced along the way. Under the "One Belt One Road" initiative, China-Singapore economic and trade cooperation has progressed, and both countries have benefited from their continual cooperation. Being the first international exchange opened by Chinese investors, APEX is the latest and most prominent project in the area of China-Singapore economic and trade cooperation.
As mentioned by Mr Zhu YuChen, founder and CEO of APEX, 4 billion of the world's 7 billion people are now in Asia, and Asia is currently contributing to almost 60% of global economic growth. He believes that the global international economic and trade centre is migrating to Asia, and with more than half of the world's bulk commodity consumption occurs in this region, Asia should become one of main global trading venues. The vision of APEX is to establish a benchmark for commodity prices in Asia, and to build an Asian commodity and financial derivatives trading centre.
APEX has chosen Singapore to set up its business for various reasons. Firstly, Singapore is Asia's most open international financial centre, and is located at the crossroads of international commodity trades. Next, many multinational commodity companies have located their headquarters in Singapore, forming a well-developed OTC derivatives market. In addition, Singapore has an open business environment, emphasis on the rule of law, a large pool of high quality talents, and is an important trade hub for round the clock trades between New York and London. APEX intends to take advantage of its inherent advantages and Singapore's geographical location to make positive contributions and to promote economic development and industrial prosperity in the Asia Pacific region.
APEX clearing members are established brokers located in the South East Asia and Greater China region, including Phillip Futures, KGI Securities, UOB Bullion and Futures, UOB Kay Hian, HGNH International Financial, DA Financial Services and Straits Financial Services. Clearing banks comprise of internationally recognised banks, including Standard Chartered Bank, Bank of China, Industrial and Commercial Bank of China, and DBS Bank.
After the successful launch of its first product, APEX will subsequently introduce other futures contracts, including agricultural, energy, metal, foreign exchange, and index futures.