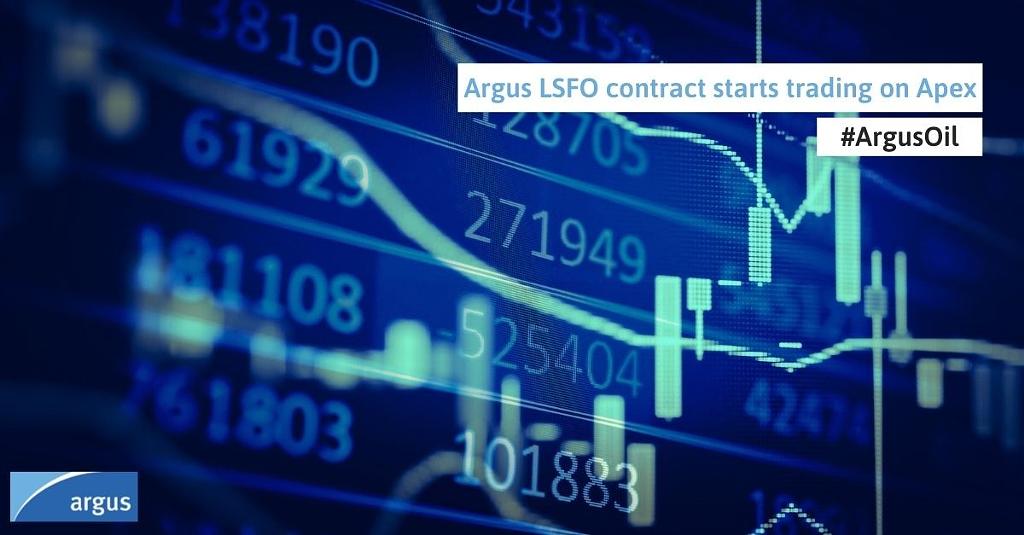 Source: ARGUS MEDIA
The Asia-Pacific Exchange (Apex) Argus Bunker Index (ABI) futures contract attracted 120 trades on its first day of activity in Singapore today.
The ABI Singapore LSFO 0.5%S futures is a cash-settled derivatives contract for low-sulphur fuel oil (LSFO). Traded volumes totalled 1,200t by 6pm today.
The December, January and February contracts' last traded prices were $539.10/t, $543.50/t and $537.40/t, respectively. The market settled at a $4.40/t contango between December and January, and a $6.10/t backwardation between January and February.
"The latter makes sense, particularly for LSFO, as more product becomes available, so the market will expect prices to be lower further out in line with crude," a trader said.
A total of 12 consecutive monthly contracts are listed on Apex. The final settlement price is the average of Argus' LSFO 0.5%S bunker assessments during the contract month.
ABI Singapore assessments were launched in June 2018 and are calculated using fixed-price delivered-to-ship bunker transactions between suppliers and shipowners reported to Argus by 7pm each Singapore working day. More than 40 companies contribute trade data.
The LSFO 0.5%S index represents the price of bunker fuel delivered between four and 12 days from the trade date, for volumes between 500t and 3,000t with viscosity of less than 380cst and sulphur content of below 0.5pc. Argus removes price outliers using a statistical analysis prior to calculating a volume-weighted average, representing the average price shipowners paid for fuel of that specification on that day.
Argus has reported a total of 43 LSFO deals so far in October, as well as 185 high-sulphur fuel oil and 123 low-sulphur marine gasoil deals.
To see original article:
https://view.argusmedia.com/APAC-ONL-2019-Argus-Oil-LinkedIn-Oil-Products-KK_26-211019-Oil-Products-LP-1.html?utm_source=linkedin&utm_medium=social&utm_content=news-landing&utm_term=pro&utm_campaign=APAC_Weekly_Stories