APEX Launched ABI Singapore LSFO 0.5%S Futures Contract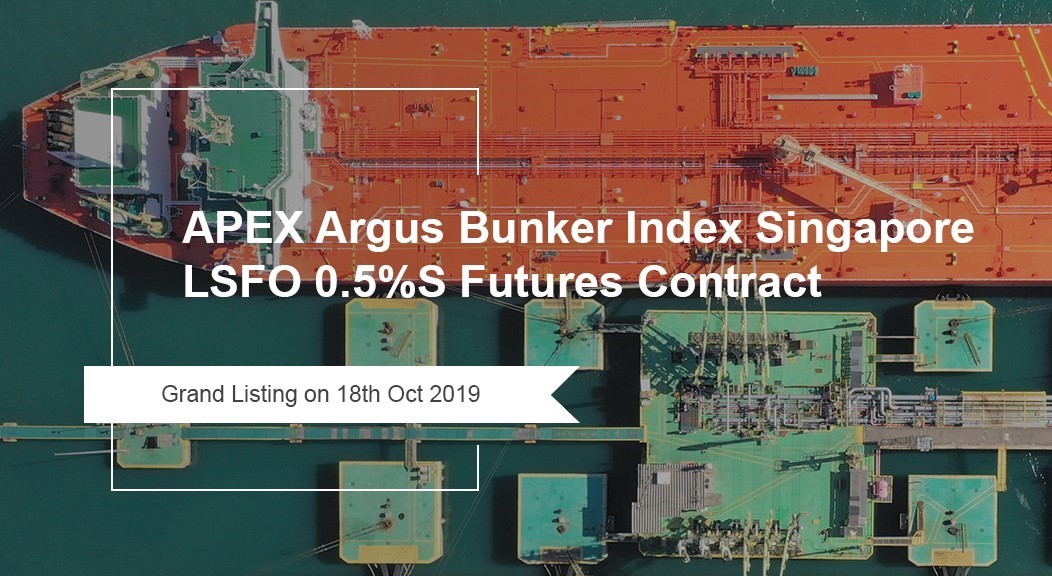 With the upcoming IMO2020 changes, Asia Pacific Exchange launched the APEX Argus Bunker Index (ABI) Singapore LSFO 0.5%S Futures Contract ("APEX ABI Singapore LSFO Futures") on 18 Oct 2019. The first contract month to trade is December 2019, with a total of 12 consecutive monthly contracts listed.
When IMO2020 takes effect in January 2020, ships without scrubbers are required to use compliant bunker fuel with a Sulphur content of 0.5% or less, a reduction from the current 3.5%. Consequently, the marine fuels industry and shipping companies are facing a huge challenge hedging the price of this new fuel. The APEX ABI Singapore LSFO Futures shall be the first derivatives product worldwide that provides delivered bunker price trading and hedging for 0.5% Sulphur fuel. Given that no industry price benchmark for this fuel type was previously established, this new APEX product will provide market participants including ship owners with purchasing requirements and suppliers holding fuel inventory an instrument for accurate hedging. In addition, it may create opportunities for spread trading to crude and other refined oil markets.
Open positions at expiration will be cash settled. The final settlement price shall be the average of all available price assessments published by Argus Media for Singapore LSFO 0.5%S Bunker during the Contract Month.
ABI Singapore assessments were launched in June 2018 and are calculated using fixed price delivered-to-ship bunker transactions between suppliers and ship owners reported to Argus by 7pm each Singapore working day. More than 40 companies have voluntarily contributed trade data, making it a robust price assessment process.
The LSFO 0.5%S index represents the price of bunker fuel delivered between 4 and 12 days from the trade date, for volumes between 500t and 3,000t, with viscosity less than 380cst and Sulphur less than 0.5%. Argus will remove price outliers using a statistical analysis prior to calculating a Volume Weighted Average (VWA), representing the average price ship owners paid for fuel of that specification that day. The full assessment methodology can be viewed on the Argus website.
Argus is an independent media organization founded in 1970, with more than 1000 staff in 23 offices. Companies in 140 countries use Argus data to index physical trade, as benchmarks in financial derivative markets and for analysis and planning purposes.
Beside the new APEX ABI LSFO Futures, APEX had listed a physically deliverable Fuel Oil 380cst Futures Contract on 11th April 2019. So far, the daily average trading volume is around 23,000lots (230,000MT), and the daily average open interest is around 3,600 lots (36,000MT).